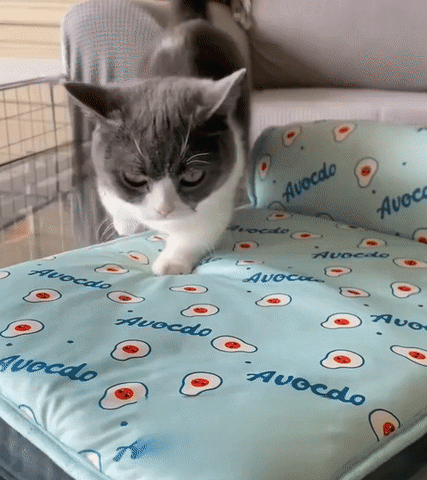 COOL PAD FOR YOUR FURRY BUDDY! 🐾❄️
Hey there! Is your pet feeling hot and bothered during those scorching summer days? Worry no more, because we've got the perfect solution to keep them cool and comfortable!
INTRODUCING SilkyCoolPad 🌟
🐶🐱 Designed for small dogs and cats, this magical mat brings the chill vibes to your furry friend. They'll be wagging their tails and purring with joy!
COOLNESS MEETS BLISSFUL RELAXATION! 😎💤
Made from special self-cooling fabric and filled with fluffy cotton, our pet mat is like a cozy cloud of coolness. It's super soft, breathable, and oh-so-comfy! Your pet will be in dreamland in no time.
EASY PEASY, LEMON SQUEEZY! 🍋✨
Cleaning is a breeze! Just toss it in the washing machine, and voila! Good as new. It's lightweight, foldable, and perfect for outdoor adventures and road trips. Take it anywhere your fur baby goes!
ADORABLE AND STYLISH! 🐾🎀
Not only does it keep your pet cool, but it also adds a touch of cuteness to their space. Imagine their cozy corner adorned with this delightful mat. Your furry child will be the envy of the neighborhood!
SPECIFICATIONS MADE SIMPLE! 📏🔍
Material: Magical ice silk + fluffy cotton Style: As shown Size: Perfect for your furry pal!
THE PACKAGE INCLUDES 📦🎁
1 × Amazing Ice Silk Cooling Mat for Dogs and Cats
NOTE: 📝
Remember, there might be a teeny-tiny difference in measurements due to our human hands. And hey, the actual color might be slightly different from the pictures because of those tricky monitors. But trust us, if there is, it is minor.
So why wait? Treat your pet to the ultimate coolness and comfort they deserve. Get the Super Cool Pet Mat now and let the good times roll! 🐾❄️💖
Hunde- und Katzenbett Kühlmatte heißer Sommer Tapis Hond Bed koeling hitte heet zomer mat pad kat puppy dog pad bed cooling hot summer