This brush is the latest way to untangle your pet's fur without scratching or causing pain!
The brush removes up to 95% of your pets' dead hair and untangles it in just 3 minutes! Eliminate mats, knots, hair loss, and tangles in the gentlest way possible!
FEATURES:
Improved pet brush: comfortable 56/76 rubber bristles that perfectly fit your pet's body and truly contribute to their comfort; the non-slip handle provides better grip for the owner. Suitable for short-haired, medium-haired, or long-haired dogs/cats/rabbits.
Unique cleaning tool: Unlike other combs, our pet comb includes wet wipes to remove loose hair from your pet's back while allowing for gentle hair cleaning. Save your cleaning time.
Massage your pet: The comb not only removes loose hair but also massages your pet at the same time, especially for pets with long hair. These combs effectively penetrate the hair roots, untangle knots, and improve mood.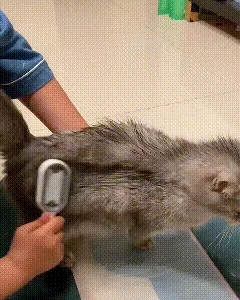 Clothing hair remover: The cat comb is equipped with short, fine teeth on the back and can be used to remove loose pet hair from clothing, sofas, and other places. Taking care of your cat or other pets and keeping their fur clean can truly help prevent pet-related diseases!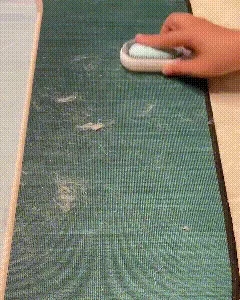 Note: For the safety and comfort of your pet, we do not provide wipes. Please use your daily wipes. Most wipes are compatible.
Cleaning comb with water tank: Cleaning, hair removal, and massage all in one. With the original water tank design, you can add water and let the essence soak, avoiding hair. (Essence not included in the package)
SPECIFICATIONS: Material: ABS Color: blue, pink Weight: 200g Size: 6.2319cm / 2.41.27.5in Package: 1* Pet hair removal comb with water tank
NOTE: Please allow slight measurement deviations due to manual measurement. Due to different monitor and light effects, the actual color of the item may slightly differ from the color shown in the pictures.
kat hond waterborstel water borstel groom haar reservoir katten puppy honden bad baden verzorgen dubbel zijdig tank poes kitten gatto cane spazzola ad acqua spazzola per l'acqua toelettatura serbatoio capelli gatti cuccioli cani bagno bagnare cura doppio lato serbatoio gattino cepillo de agua para gatos y perros, cepillo de doble cara con depósito de agua para bañar y cuidar a tus mascotas, gatitos y cachorros gato perro cepillo de agua cepillo de agua peinar pelo depósito gatos cachorro perros baño bañarse cuidado doble cara tanque gatito gatito cat dog water brush water brush groom hair reservoir cats puppy dogs bath bathing care double-sided tank kitty kitten