For many many places and rooms: Living rooms, Kitchens, Shops, Gardens and many more!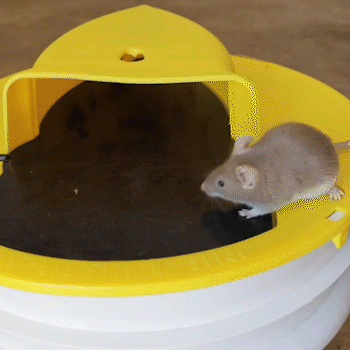 🐶PET/CHILDREN FRIENDLY - Stop purchasing traditional Mouse/Rat traps which can harm your family pet or, even worse... your children. Our Mouse/Rat trap is 100% safe and nontoxic.
Setup instructions: 
1. Bait the trap by spreading peanut butter under the front side of the bucket lid. Recommended: Sprinkle sunflower seeds/nuts in the bucket.
2. Snap trap on to a standard sized 5 Gallon bucket.


3. Assemble the provided ramp; press the two tabs into the slot located on the side of the lid
4. Place the trap along a wall where mice activity is known
5. OPTIONAL: we recommend a animal friendly approach by putting the mice back into nature. But the bucket can be filled with water or oil. 
🧼👏 Sanitary - No more having to dispose of dirty corpses from glue or snap traps, which can potentially infect you with a deadly disease. Now simply release/dispose of the mice/rats without getting close to the mess.
🐀🐭Mice/Young Rats - Our trap has the unique capability to catch both mice and small to medium-sized rats

Product information:
Dimension:31cm x 31cm x 9cm
Material: PP
Packaging includes:
1* Bucket Lid
1* Slide Counter Weighted Plank
2* Piece Ramp